HTHS-2000 series Common Sample Recycle System (CSRS) & Enclosed Sample Recovery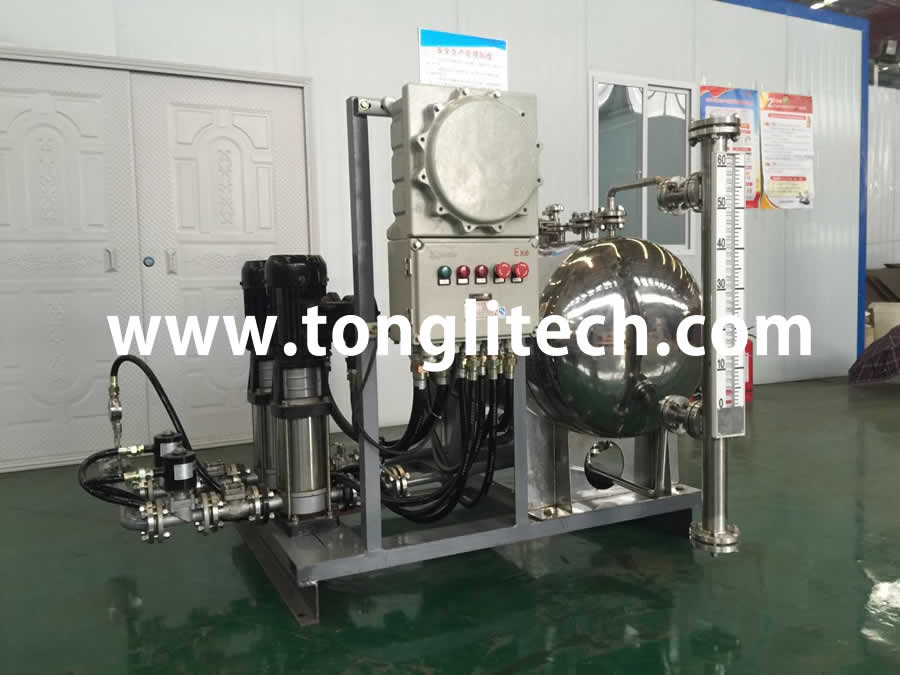 For oil analysis instruments, our company launched a Common Sample Recovery System (CSRS) for recycling purposes. Samples of various oil analysis instruments can be collected and sent back to the process pipeline or atmospheric container.
HTHS-2000 series CSRS consists of a stainless steel return tank, two switchable explosion-proof return pumps, a dedicated high-precision oil level detection meter, and an automatic control system.
When the fluid level reaches the maximal level of the oil return tank, the oil level control system activates the return pump and extract the oil from the tank into a low-pressure pipe or normal pressure vessel where the pipe pressure is no greater than 0.2 MPa. When the fluid level drops to the minimal level of the return tank, the control system deactivates the return pump.
When the control system detects no significant change in oil level within the specified time, it shuts down both the inlet and outlet valves while sending out an alarm to ensure the safe operation of the system.
Built upon the conventional CSRS, the upgraded version, Enclosed Sample Recovery System(ESRS) adopts a drainage ignition green treatment method for all kinds of flammable and explosive gas substances generated during the analytical process. This mechanism ensures an enclosed space during analytical and recovering processes, keeps the balance between safe analysis and environmental protection, eliminates potential safety risks, and achieves zero-emission environmental goal all at the same time.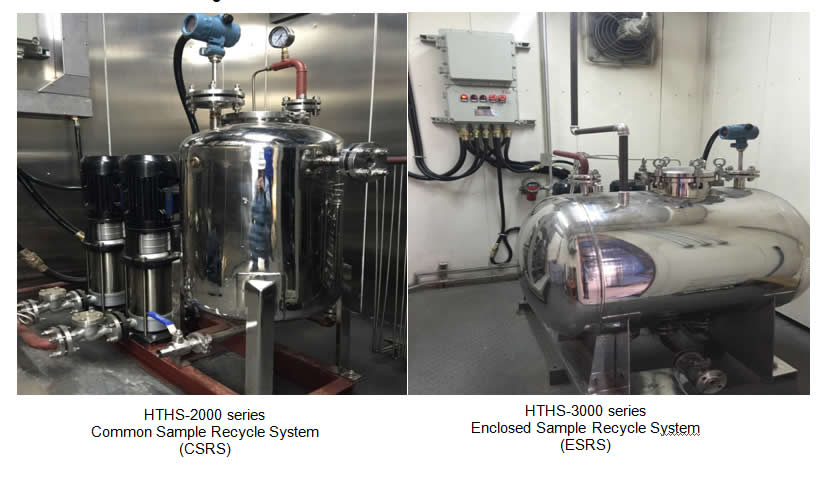 Applicable Fields
Both CSRS and ESRS apply for gasoline, kerosene, diesel, lubricants, and other similar substances recycle in explosive environments. For different recycling substances, we use different feeding pumps.
The recycling system is equipped with nitrogen valves, one-way valves, relief valves, back-fire relief valves, and other safety equipments to ensure the safe operation during recycling process.

Technical Parameters

Explosion-proof Grade: Exd II BT4 or Exd II CT4

Control System: Siemens PLC control system

Power Supply:
380VAC±5% 3000W

220VAC±5% 100W
Oil Return Pump: two sets of isolated explosion oil return pumps, one for mainly use and the other for spare, can be interchanged automatically.

Working Temperature: 10~80℃

Medium Density: 0.6~0.9Kg/ m³

Recycling Tank Capacity: maximal:232L

Pump Outlet: DN20 flange interface or customized to customers' needs

Pump Flow: 80L/min

Pump Outlet Pressure: 1.2MPa

Gasoline Conveyor Pump Outlet: DN20 flange interface

Diesel Conveyor Pump: gear oil pump, flow:18.3 m³/h, pressure: 1.45MPa

Gasoline Conveyor Pump: magnetic oil pump, flow 0.7 m³/min, head of delivery: 120 meters

Vent Nozzle: G3/4 internal thread or DN20 flange interface

Dimensions

Installation Site: indoor or outdoor sites that are in compliance with the regulations of Ex d II BT4 or Ex d II CT4; no significant vibration, direct sunlight, rain, or frost